291,400 Neath Port Talbot Diaspora around the world
See one of our recent Ireland101 Tribe Gatherings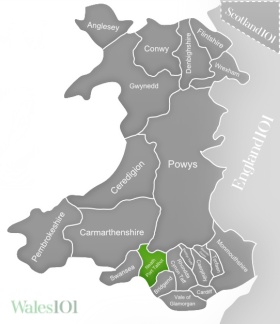 Neath Port Talbot is also known as the waterfall country. The valleys and forests have so many picturesque waterfalls to offer that you'll have a hard time deciding which ones to visit and which ones to miss out on. Sometimes you might even come across a waterfall without having planned to see one. You drive or walk around a corner, and then you will know why Neath Port Talbot is called the waterfall country. Of course, waterfalls are not everything this beautiful region of Wales has to offer – but the waterfalls are definitely one of the reasons why this region is very popular with national and international visitors. Don't worry though – the region is not overrun with tourists, and it's quite likely that you can go for a hike without running into people all the time.
Neath Abbey
The Neath Abbey was founded in 1130, and while there are only ruins left, those ruins are very impressive. It is a very peaceful place to visit, and it's not hard to imagine that it must once have been a very influential part of the surrounding area.
(c) Crown Copyright
National Trust Aberdulais Tin Works and Waterfall
This is not just another waterfall, but one that powers the UK's largest electricity-generating waterwheel. There is a visitor centre in which you can learn more about the history and how the waterwheel works, but the most interesting part is to actually watch the wheel in action.
Margam Country Park
The Margam Country Park is ideal for a day out with the whole family. The kids (and also the adults) could have some fun in the high wire forest adventure course, and then you could go for a leisurely stroll in the gardens. There is a castle, a 12th century Chapter house and an 18th century Orangery. If you like cycling, then there are also some lovely – and even secret – cycling trails in the park. Of course, you can also just walk on them.
Fforest Fawr Geopark
The Fforest Fawr Geopark is definitely something you need to put on your list when you are in Neath Port Talbot. While you can explore the area on your own, there are also often talks and guided walks that will help you to get even more from your visit. But what is the Fforest Fawr Geopark, you wonder? It is a wonderful area that has mountains, villages, towns, lakes and rivers, forests and lovely meadows, moorlands, and – of course – also one or the other waterfall. The Fforest Fawr Geopark is so big that you could spend days in there, so make sure that you plan what you actually want to do: just a few hours of exploring or a two day hike?
Cefn Coed Colliery Museum
As you might already know: the Welsh have quite a colourful history when it comes to mining, especially coal mining. If you head to the Dulais Valley, then visit the Cefn Coed Colliery museum as this is one of the places where you can get quite a good insight into that part of Welsh history. The museum was built on the ground of a coal mine (which is not in use any more), so parts of the old mine are used for educational purposes. The museum has MP3 trails, so you can download an MP3 file to your player and listen to it while you walk through the museum.
1940's Swansea Bay
This is a very interactive experience, and very popular with younger people. You get to put on clothing from the war time era, and then you learn about life during a raid. You hear the sounds, you learn about rations, and the cafe that is attached to the experience even serves Spam sandwiches!
Margam Abbey and Stones Museum
Yes, there are plenty of abbeys, churches and other sacred ruins in Wales, but this one is quite a special place, and very popular with locals and visitors alike. After all, it is the oldest Cistercian foundation in Wales that still has an intact nave AND it is used for worship. The museum itself is houses in an old schoolhouse, and gives you the chance to have a look at some fascinating early Christian memorials from the pre-conquest time. Be aware that you need to call if you would like to visit the museum.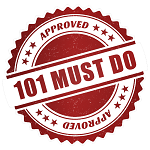 101 Must-Do' ways to live your regional connection.
Our 101 team have been working with local tourism, business, community and Council initiatives to bring you some of the best ways for you to live your connection to Neath_port_talbot.