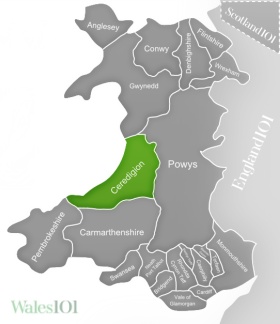 Most people visit Ceredigion because of its fantastic beaches, and it is unsurprisingly one of the top holiday spots in Wales. The coastline of this Welsh region is stunning and you also have the chance to spot one or the other dolphin or seal (especially if you go on a specialised tour!). For people who are not into beaches, the region is framed by the beautiful Cambrian Mountains, which are brimming with wildlife.

(c) Crown Copyright
Towns and villages
Aberystwyth, with around 15,000 inhabitants, is the biggest town in Ceredigion – and for many visitors it seems like a rather small place, especially when you come from a country with bigger cities! Even though it might be small, Aberystwyth has a lot to offer, especially if you love books.
Aberystwyth is home to the National Library of Wales – and that library is home to five million books. It's a very impressive library to visit! Aberystwyth is also home to the largest camera obscura you can find anywhere on the planet. Not bad for a town with just 15,000 inhabitants, right? In addition to that, the town also has a fantastic centre for arts, a marina, and a couple of lovely beaches. It is a perfect base to explore the surrounding Ceredigion area as the public transport connections are as excellent as you can get them in Wales.
If you feel like something even smaller, then you can head to any of the little towns and villages. Every single one of them has something to offer, e.g. Cardigan, a charming market town, or Borth which has a fine, golden, shallow beach that stretches for about three miles. Lampeter is the place to visit if you would like to see the place that had the third oldest college (after Cambridge and Oxford) in the UK. It still has the university, but compared to other university towns it is a small place, so small that it is the UK's smallest university town!
Cardigan Bay coast and beaches
The Cardigan Bay coast and the beaches in the area are a great place if you would just like to relax. Choose Cardigan itself as your base, and relax, explore or take a tour to go dolphin watching. The coastal area has plenty of charm. There are little coves, some of them you might even have for yourself, tiny little ports, plenty of wildlife to see, and also a lot of activities if you had enough of lying around on the beach!
Countryside
There are horse, pony and sheep shows in the countryside if you feel like something more rural. The Ceredigion countryside is like a landscape taken out of a picture book: rolling hills, burbling streams, flocks of sheep and farms. The silver lead miners and historic monks, however, have also left their mark, and there is plenty to explore if you would like to learn more about the complex history of Wales.
River valleys
The river valleys in Ceredigion are so beautiful that you can just stand there and be captivated by the beauty of it all. There are plenty of river valleys in Ceredigion, and they all offer fantastic walking trails, and some rivers also have excellent canoeing and kayaking options for you. Whatever you decide to do in the river valleys: don't forget to take a camera (preferably in a water-proof bag, just to be on the safe side)!
Cambrian Mountains
The Cambria Mountains are a fascinating place to visit. Not only can you spend days just wandering around the beautiful landscape where some of the main rivers of Ceredigion start and where you can find little, charming lakes, but you can also learn about the big water reservoirs that supply a lot of people with fresh water, about the mining industry, and about how upland farms and communities work towards being more sustainable.