189,737 Torfaen Diaspora around the world
See one of our recent Ireland101 Tribe Gatherings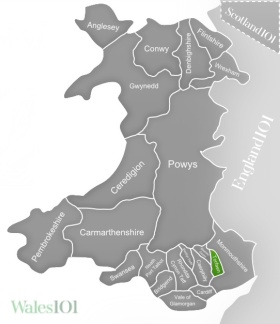 Torfaen is a small region in Wales, and while it does not seem like a place that has a lot to offer for a tourist, a second look reveals that there are some hidden treasures – just like in all other regions of Wales. In Torfaen, you will usually find yourself in one of the three main towns: Cwmbran, Pontypool, or Blaenavon.
Blaenavon
The third major town in Torfaen is Blaenavon, which can be translated as the source of the river. It is most likely the most picturesque of the three towns, and also listed as a UNESCO world heritage site. It is home to one of Europe's best preserved Ironworks from the 18th century. You can also visit a heritage railway, spend time in the big pit mining museum, stroll through some art galleries, and end your day with a beer from the local brewery.
(c) Crown Copyright
Cwmbran
Cwmbran is one of the three main towns in Torfaen. It is popular because of its undercover shopping centre, and is a great town to go to if you are in need of entertainment: there is a stadium, plenty of golf clubs, a theatre, and a leisure complex. The shopping centre is one of the biggest shopping centres in Wales, so basically everything in Cwmbran is about shopping. However, there is also a nice boating lake, if you feel like doing something different after all the shopping! Cwmbran may also be a good base to explore other parts of Torfaen.
Pontypool
While Cwmbran is for your entertainment, Pontypool takes care of your needs when it comes to parks. There is a beautiful park in Pontypool, and you are also able to have a look at one or the other historic landmark. Just like Cwmbran it also has a few golf clubs and a stadium. There is also a museum in Pontypool, in which you can learn more about the local history. A very interesting place in Pontypool is the Shell Grotto (whether it's open or not can be found out in the museum, and it's good to check before you make your way there). The walls of the interior are decorated with shells, and it was originally intended as a family house.
Garn Lakes
The Garn Lakes can be accessed from Blaenavon and are a great example that mistakes of the past can sometimes be undone, at least partially. The Barn Lakes used to be an area that was covered in lots of rubbish from old colliery workings. Now, after a land reclamation scheme, the beautiful Garn Lakes Local Nature reserve is a great place for locals and visitors alike. The wildlife is also coming back, and the future of the lakes and surrounding grasslands looks quite good. Visiting the Garn Lakes, and learning about their history is a good reminder for people that Wales didn't always have the image of being a nice, green country with clean lakes and rivers. For a time, the contrary was true.
Folly Tower
This tower was built in 1770 and later renovated (1831). It was mainly used as a lookout by hunters, and also as a summerhouse for the Hanbury family. Unfortunately, the tower was destroyed in World War II. It was rebuilt, and officially opened again in 1994. The tower has great views over the area, however, it is not always open to the public, and you need to wear suitable shoes if you plan on walking over the field to the tower. Livestock is often kept on that field, and you wouldn't want to ruin your best pair of shoes by stepping into some cow poop.