189,737 Torfaen Diaspora around the world
Our in-person family gatherings
Ireland's President Higgins family message
Our TEDx talk about family gatherings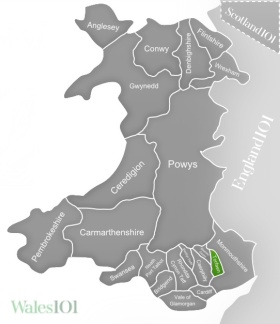 Situated in the most easterly of the South Wales Valleys, Llwyd Valley, Torfaen is packed with some of Wales' most remarkable industrial heritage, ancient oddities and oodles of green open space.
Start your Torfaen trip in Blaenavon. It isn't the largest town in the area – Cwmbran and Pontypool are much bigger in terms of population – but it's drenched in history. The whole landscape is a Unesco World Heritage Site, recognised for its significant iron making and coal mining past. Visit the Blaenavon World Heritage Centre to get your bearings; the centre is housed in the old St Peter's School, which was founded in 1816 to educate local ironworkers' children. There are interactive exhibitions and displays to help you understand how life in Blaenavon has changed over the centuries.
(c) Crown Copyright
Perhaps the best known attraction in Blaenavon, the Big Pit National Coal Museum lets visitors experience a day in the life of a 20th century coal miner. You can venture 300ft underground on a tour led by a former miner, see the old changing rooms, canteen and medical centre, and learn how coal was mined thanks to audiovisual presentations.
At the Big Pit you may notice a railway station – this is part of the Pontypool and Blaenavon Railway, a heritage line run by volunteers. Once used to transport coal to the Midlands, today the vintage carriages transport curious tourists only – check times and book in advance to ensure you get the chance to experience it.
The other must-see in Blaenavon is the Ironworks. Dating back to 1789, today it is the best preserved blast furnace from the Industrial Revolution. Explore the workers' terraced cottages – which are furnished as they would have been over the centuries – and venture inside a blast furnace to learn how the ironmaking process was refined.
The Blaenavon landscape isn't all heavy machinery and abandoned pits – just out of town lie Garn Lakes, a refreshing spot to take a walk or grab a picnic between sightseeing excursions. You might not guess it, but this idyllic landscape was once covered in spoil tips and old colliery waste – it's a fine example of how the Welsh Valleys are continuing to recover and grow after their industrial heyday.
Head south to Pontypool, where you'll find some unusual scraps of history on the outskirts of town. John Hanbury, a British heir and MP, and his family made their mark on the area in the 18th century. Within their estate – now the 64 hectare Pontypool Park – they built a remarkable Shell Grotto and a Folly Tower. The round grotto is decorated inside with hundreds of shells (plus a few animal bones) and has commanding views of the Severn Estuary. King Edward VII is said to have eaten a picnic there as a child in the late 1800s. The Folly was sadly destroyed during the Second World War, but rebuilt in the 1990s. While both sites are rarely open to visitors, the scenic walk alone – which is often steep in places – is worth it.
Save time for Torfaen Museum to learn more about the history of Pontypool, the county's industrial past, and what life was like here during the Victorian era. Art more your thing? Visit Llantarnam Grange Arts Centre in Cwmbran, a community and exhibition space within a Victorian manor house. As well as modern art and sculpture galleries, the venue runs crafting workshops and sells Welsh-made creations at the gift shop.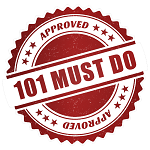 101 Must-Do' ways to live your regional connection.
Our 101 team have been working with local tourism, business, community and Council initiatives to bring you some of the best ways for you to live your connection to Torfaen.