255,000 Pembrokeshire Diaspora around the world
Our in-person family gatherings
Ireland's President Higgins family message
Our TEDx talk about family gatherings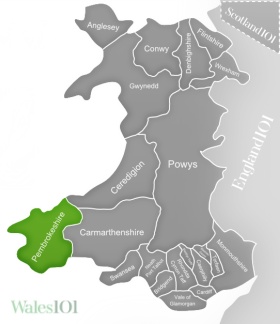 Pembrokeshire in West Wales is best known for its outstanding beaches and coastal wildlife. In fact, the county's entire coastline comprises Pembrokeshire Coast National Park, and the first section of the Wales Coast Path – the Pembrokeshire Coast Path – officially launched here in 1970. Inland, the undulating countryside is peppered with ancient castles and prehistoric ruins.
Kick off a trip to Pembrokeshire with a day or two in Tenby, the region's chocolate-box seaside town. The pretty harbour is lined with pastel-coloured houses backing onto a maze of narrow lanes where you'll find plenty of pubs, boutiques and restaurants. Don't miss Castle Beach, which overlooks a tidal island topped with the ruins of St Catherine's Fort – you can walk across to explore the island at low tide. Carew Castle – home to the only restored tidal mill in Wales – is just a 15-minute drive away.
(c) Crown Copyright
Other highlights on the Castlemartin Peninsula (the most southerly of Pembrokeshire's three peninsulas) include the legend-shrouded St Govan's Chapel, a tiny building squeezed between two rock faces near St Govan's Head; Green Bridge, a natural rock arch rivalling the likes of England's Durdle Door when it comes to rugged beauty; and Freshwater West, the vast beach featured in Harry Potter and the Deathly Hallows Part I as house elf Dobby's final resting place.
Wildlife lovers will want to save time for a trip to Skomer Island, which lies less than a mile off the coast of Marloes Peninsula. The island's famous puffin colony is best spotted between June and July, though sightings are possible between April and August. There's also a healthy population of Manx shearwaters, as well as grey and common seals – come in September for the best chance of seeing fluffy seal pups.\
St Davids is the most westerly point on mainland Wales and is the UK's smallest city – with a population of just 1,600. It's a popular destination with visitors due to its incredible coastal location and medieval cathedral, which has been a place of pilgrimage since the 12th century. The city is also the ideal jumping off point for a day trip to Ramsey Island RSPB reserve; the isle's 120-metre-high cliffs are the perfect spot to catch a glimpse of the region's birds, including guillemots, razorbills, choughs, peregrines and buzzards.
In Pembrokeshire, even Wales' historic slate industry has been given a makeover by mother nature. The Blue Lagoon in Abereiddy is an old slate quarry that's been flooded by the sea, creating a fabulous spot to kayak, swim or stand up paddleboard. The old slate beneath the water is what gives the lagoon its pale blue colour.
If you can tear yourself away from Pembrokeshire's divine beaches and coastal walking trails, head to the Preseli Hills for a lesson in local ancient history. The gentle green hills here are scattered with prehistoric relics, from the three Bronze Age burial cairns of Foel Drygarn to the supposed remains of a Neolithic stone circle known as Waun Marn. Don't miss Pentre Ifan, a Neolithic dolmen that's Wales' answer to Stonehenge – indeed, Stonehenge's bluestone is thought to have been sourced in these very hills.
If you like your history a little more interactive, make your way to Castell Henllys Iron Age Village. Set within 30 acres of woodland and meadows, the roundhouses and granary that were here over 2,000 years ago have been reconstructed on the same foundations using authentic materials, and a gaggle of actors represent the tribe who lived here. Indoors, the visitor centre features videos and vibrant exhibits to help you learn more about what life was like in the Iron Age.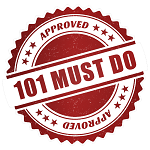 101 Must-Do' ways to live your regional connection.
Our 101 team have been working with local tourism, business, community and Council initiatives to bring you some of the best ways for you to live your connection to Pembrokeshire.