255,000 Pembrokeshire Diaspora around the world
See one of our recent Ireland101 Tribe Gatherings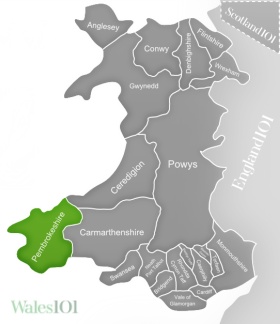 Pembrokeshire is a very attractive place for people who love wildlife, especially when it comes to seabirds and dolphins. This Welsh region is a paradise for nature lovers, but also offers a lot when it comes to historic castles and Welsh heritage. Pembrokeshire is one of the most popular Welsh regions when it comes to tourism – and tourism is one of Pembrokeshire's main sources of income. Especially family tourism is quite popular here. However, once you move away from all the coastal holiday makers, you can also find some peace and quiet inland while exploring castle ruins and walking on less popular tracks.
(c) Crown Copyright
Pembrokeshire Coast National Park
Pembrokeshire is the only region in Britain to have a coastal national park that has only been awarded the status of a national because of the way it looks! The landscape is indeed incredible, and there is a good, well maintained walking track that leads you all the way around the Pembrokeshire coast (which is part of the national walkway that enables you to walk the whole length of the coast of Wales!).
Grassholm island
If you love birds, then Grassholm Island is one of the best things you could treat yourself with. Every years, thousands of gannets fly to this island to lay their eggs and rear their young ones. The island turns white (and the untrained eye might think it's covered in snow) because there are so many birds on it. There is a strict policy about who is allowed on the island, so normal people are not allowed there – which is a good thing. However, you can take boat tours that take you close enough to the island so you can see the impressive birds. Gannets are usually not the only interesting thing you see: there are often also dolphins, puffins and shearwaters. If you would like to go on just one wildlife experience during your time in Wales, then it should definitely be a cruise around Grassholm Island. It will be an experience you won't quickly forget.
Tenby
Tenby is one of the most popular beach towns in Wales, and you will be able to find a wide variety of different accommodation options there. It is the ideal place if you would like to have a relaxing break at the beach, but would still like to be able to also take in some culture. One of the beaches a little outside of Tenby itself even boasts the ruins of an ancient castle – doesn't that sound like a nice combination? The Tenby Museum and Art gallery is another place where you can have a break from the beach to soak in some culture. Tenby is also a fantastic place for people who love their food and their drinks.
St David's Cathedral
St David's is the smallest town in Britain. Only about 2,000 people live there, but it's worth a visit because the St David's Cathedral has been an important place for many pilgrims since the 12th century. And even if you aren't very interested in the history of pilgrimage, the cathedral is still quite impressive to look at.
Oakwood Theme Park
The roller-coaster in the Oakwood Theme Park was voted the best ride in Britain and the third best in the world. Even if you aren't really into roller-coasters, this theme park will have a lot to offer for you, and it's a fantastic day out for the whole family.
Preseli Hills
On a good day, you can see Ireland from the Preseli Hills (if you look the right away, of course), but that is not the main attraction of these hills. There are some stones on the Preseli Hills, and while they will never be as well known as the stones of Stonehenge, it is said that stones from the Preseli Hills were actually used to build Stonehenge.
Ramsey Island RSPB reserve
While you aren't allowed to visit Grasshill Island, you can go and visit the Ramsey Island RSPB reserve. There are no gannets, but you will see plenty of other birds instead (fulmars, razorbills and the highly entertaining kittiwakes, just to name a few). And of course, the scenery is also worth taking in. It's a great day trip, especially if you like birds!
Carew Castle
Carew Castle is not just impressive, but also home to the only restored tidal mill in Wales. There also is a Celtic Cross from the 11th century, a medieval bridge and a lovely picnic area. If you visit the castle during summer, then you might also be able to take part in some of the activities that are offered each summer.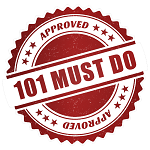 101 Must-Do' ways to live your regional connection.
Our 101 team have been working with local tourism, business, community and Council initiatives to bring you some of the best ways for you to live your connection to Pembrokeshire.