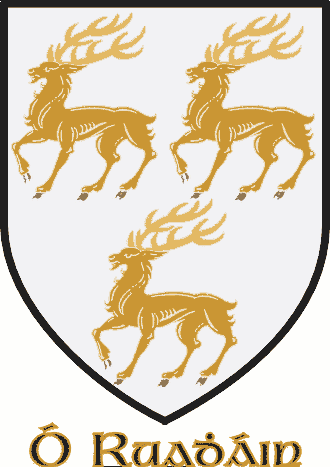 Get this crest printed on...
RUANE Family History
This notable Irish surname is an Anglicized form of the Old Gaelic "O'Ruadhain", which translates as "the descendant of the red one". It is not proven whether "Ruadhan" (red) refers to complexion or hair, or to some notable event relating to the prowess of a warrior, but either way it is a descriptive nickname from the pre-medieval period. The clan originated in the two ancient areas known as Ui Maine and Ui Fiachrach, in Counties Mayo and Galway respectively, and even today, with some exceptions, these remain the principle places associated with Ruane. The 16th Century Elizabethan land Registers and the 1659 Petty's "census" of Ireland give the then spelling as mainly "O'Rowane" and "O'Rowghan", although there are many forms including O'Rowan, Rown, Roan and Rowan...