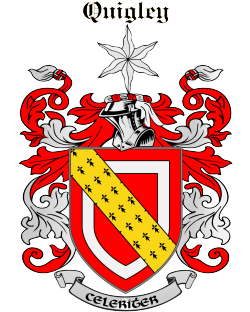 Get this crest printed on...
QUIGLEY Family History
Recorded in a number of spelling forms including O'Quigley, Quigley, Kegley, and Cogley, this is an Irish surname of ancient origins. It derives from the 12th century Gaelic O'Coigligh, a nickname for an untidy person, or possibly one with long, flowing, hair. Most Irish surnames originate from a nickname, this nickname being given in ancient times to the leader of the emerging clan. The "O" suffix has been lost since the early 19th century, in common with many other surnames, and is rarely seen now. The clan originates from the far west of the county in County Mayo, and although there is some evidence of them being dispersed in the 16th century, its main residential area remains in Donegal and Sligo...