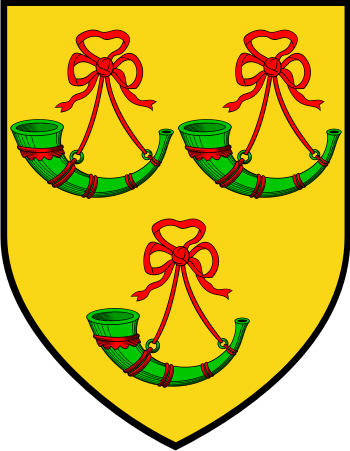 Get this crest printed on...
HUNTER Family History
Recorded as Huntar, Hunter, and the female Huntress and Huntriss, this ancient surname is of Anglo-Scottish origins. The derivation is from the Olde English pre 7th Century word "hunta", from "huntian", meaning to hunt, with the agent suffix "-er", meaning one who does or works with. The term was used not only of hunters on horseback of game such as stags and wild boars, a pursuit in Middle Ages restricted to the ranks of the nobility, but also as a nickname for both bird catchers and poachers. The surname is first recorded in Scotland in the early 12th century (see below), whilst the first English recording may be that of Simon Huntere in the Curia Regis Rolls for the county of Bedfordshire in the year 1220, whilst half a century later we have the recording of Agnes Huntris also recorded in the Latin form of Venatrix, in the Hundred Rolls of (appropriately) the former county of Huntingdon in 1273 ...