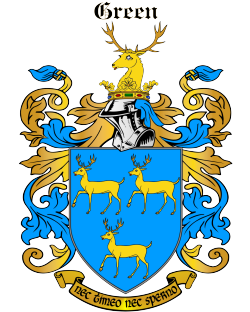 Get this crest printed on...
GREEN Family History
Recorded in the spellings of Green and Greene, this is one of the most widespread of English, and sometimes Irish, surnames. It is usually of pre 7th century origins, and derives from the word "grene" meaning green. As such it may be topographical for a person resident by a village green or even a place called Green, or as a status name for a young man who played the part of the mystic and fertile "Green Man" sometimes known as "Jack in the Green", in the May Day fertility celebrations. In this context "green" was symbolic of youthful ardour, spring, and the re-growth of nature...