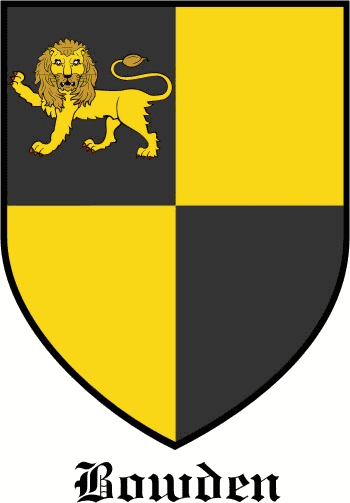 Get this crest printed on...
BOWDEN Family History
This interesting name is of Anglo-Saxon origin, and has two possible sources. It can either be topographical, describing a "dweller by the top of a hill", from the Olde English pre 7th Century phrase, "bufan dune", meaning "above the hill"; or it may be locational from any of the places called Bowden or Bowdon. Bowden in Devonshire and Derbyshire, and Bowdon in Cheshire are composed of the Olde English elements "boga", arched or rounded, and "dun", hill; hence, an "arched or rounded hill"; while Bowden in Leicestershire, recorded as "Bugedone" in the Domesday Book of 1086, comes from the Olde English female personal name "Burcge" (masculine "Buga"), and "dun"; hence, "Burcge's hill"...